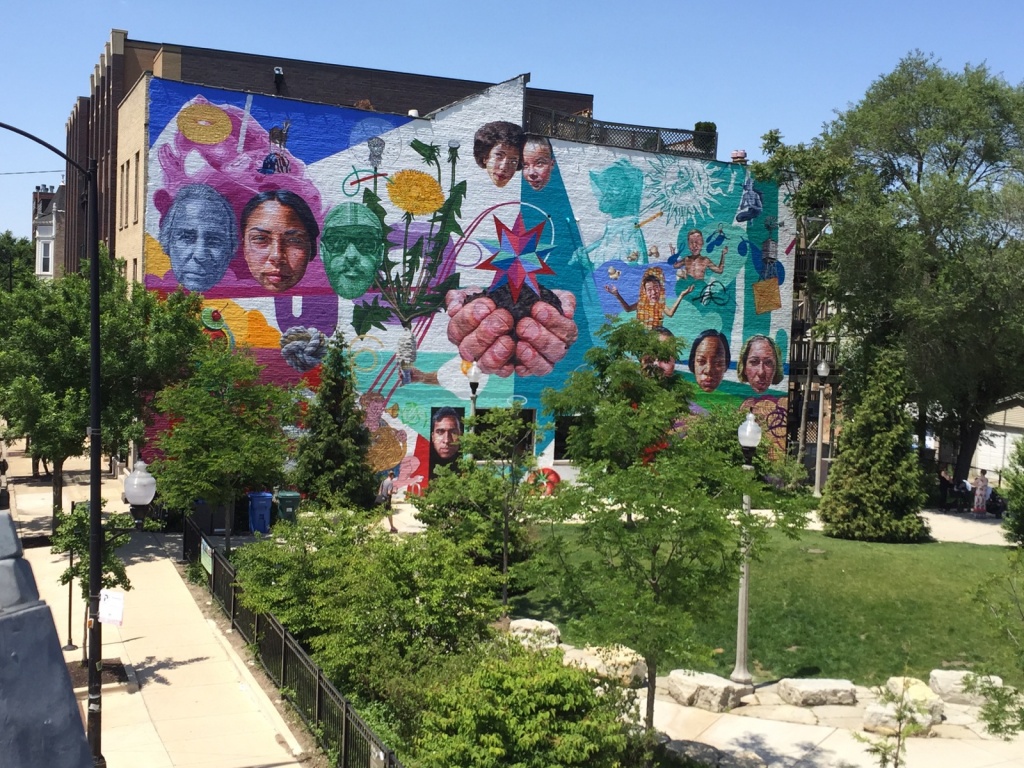 There is a new urban walk and bike path in Chicago. Having just walked parts of it a couple of weeks ago, I can say they did a great job. This was an old rail line. It is elevated and has different paths connecting at the lower street level. Some of the paths break back and forth as switchbacks leading to and through a small urban park setting. The walk is raised up above the city a full floor above the streets. Bridges span between ground level paths and the street views are great. They are the backs of older buildings or the new housing projects and their open spaces. In my opinion, the best place to live in this environment would be the intersections with connecting ramps for the views open up. There are walking and running paths or there are benches for relaxing and enjoying the views of the city. Some of the guardrails have galvanized top rails be careful when leaning on them they could be hot! There is not a lot of shade while it is sunny but again this development is new and the trees will grow. One great thing I noticed was while on the 606 Trail, I did not notice the loud sounds of the city.
Official plans for converting the Bloomingdale Line into a public space date back to the late 1990s http://www.the606.org/about/history, when it was included in the City's Bike Plan. In 2003, the City's Department of Planning and Development held a series of public meetings to determine how to bring new open space to the City's underserved Northwest side, forming the basis of what would become The 606. The 2004 Logan Square Open Space Plan called for an ambitious reuse of the former industrial rail corridor. This spurred the formation of the Friends of the Bloomingdale Trail, a group of residents who would champion the project for the next decade, dedicated to making the vision become a reality. From industrial beacon to impromptu nature trail to innovative public space and alternative transportation corridor for the next generation, the Bloomingdale Line has been the site of innovation since its inception. The city did a great job! I cannot wait to return.
The 606 brings together arts, history, design, trails for bikers, runners, and walkers, event spaces, alternative transportation avenues, native plantings and fields, and green open space to the new neighborhoods, Chicagoans, and the world. I love the fact a city is working on integrated design concepts as a public-private partnership!!